ADVANTAGES OF LUNA DREAM ERGONOMICALLY DESIGNED CARRIER


SAFE AND CERTIFIED MATERIALS
Certified buckles guarantee safety and reliable hold. All the materials used are certified with Oeko-Tex Standard 100, safe for allergy sufferers. .
THE HIGHEST QUALITY OF WORK
All the fabrics are woven in Poland. Each carrier is sewed manually, which results in precise and thorough finish. .
NATURAL POSITION
Luna Dream carriers were designed after consulting physical therapists and sling advisors. During babywearing, a baby is in a safe "M"position.
COMFORT DURING BABYWEARING
Special soft padding of shoulder straps, hip belt and the spot under baby's legs allows hours of babywearing without any discomfort.
SIMPLE ADJUSTMENTS
The applied adjustment system allows adjusting the carrier to a baby from 68 to 110 size.
CLOSENESS
Babywearing in a carrier or a sling facilitates building close relationship with a baby from the firsts months of life. .



COMPARISON OF LUNA DREAM BABY CARRIERS



Each Luna Dream carrier allows front and back carries. Below you can find exemplary positions:
Here you can download the instruction manual for MultiSize Carrier - download
You can return any product within 14 days since the day of purchase without giving any reason. You can try, adjust and check if a carrier you've ordered is right for you. If you'd like to return the carrier, just send it back to us and we will return the payment on your account.

All the products are covered by a 24-month warranty. For more details go to Shop Regulations.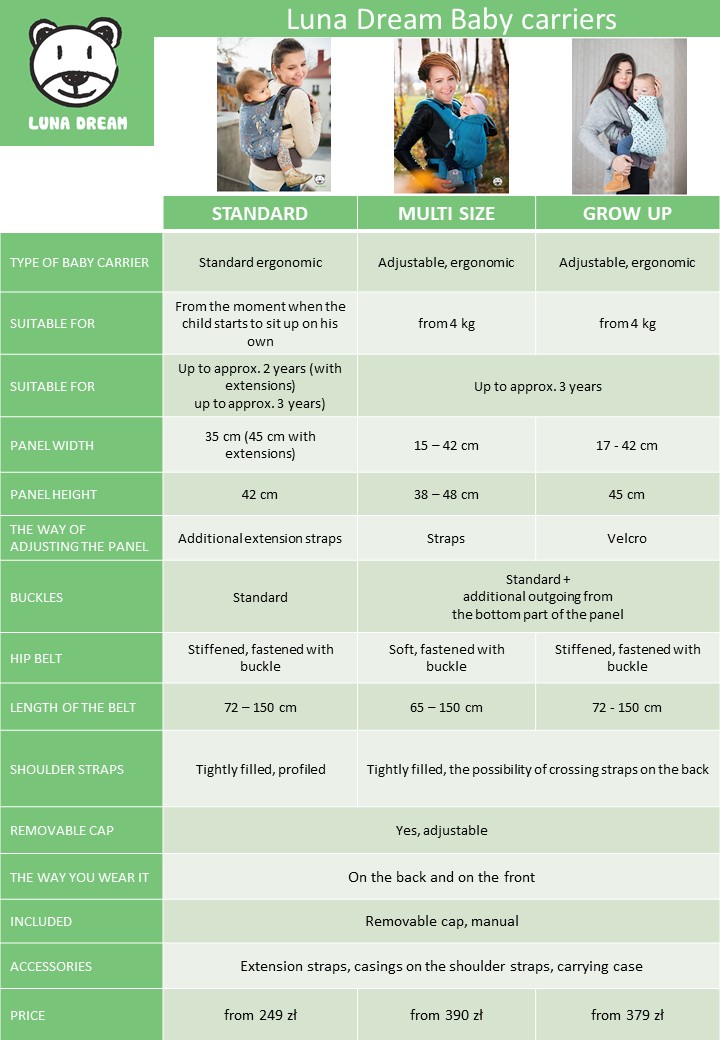 This site is under construction. Come back soon.