More info
Luna Dream ergonomically designed baby carrier:
- Perfectly shaped panel ensuring the comfort and the correct physiological position of a carried baby
- The highest quality fabrics certified with Oeko-Tex Standard 100
- Attested Duraflex buckles for safety and durability
- Three-stage buckle on a waistband prevents an accidental unbuckling
- Soft, wide shoulder straps allow carrying a baby for a long time while maintaining a comfortable position without the shoulder pain
- Especially-designed, comfortable, soft pads placed just under baby's legs for the highest comfort of a carried baby
- Adjustable panel length (height) allowing a precise adjustment of the carrier so it corresponds to a baby's height
- Straps adjustable on both ends and a waistband make it easy to adjust the carrier so it fits a carrying person (from XS to XXL sizes)
- Detachable hoodie that can be changed into a soft pillow under your baby's head during an afternoon walk nap
- Especially designed unique waistband for additional support of your spine and shoulders. It is soft with a stabilizing structure only in the center, so that a carrying person doesn't feel any discomfort during bending or moving side-to-side.
- A pocket in the waistband has a rain cover inside. You can put it out and stretch it over the carrier, so your baby stays dry during the rain. Additionally, if you turn the rain cover inside out, it changes into a convenient carrier bag you can wear on your shoulder or back.
- The carrier comes with two shoulder straps covers. They protect your baby's skin from any scrapes and they come in handy during a teething period.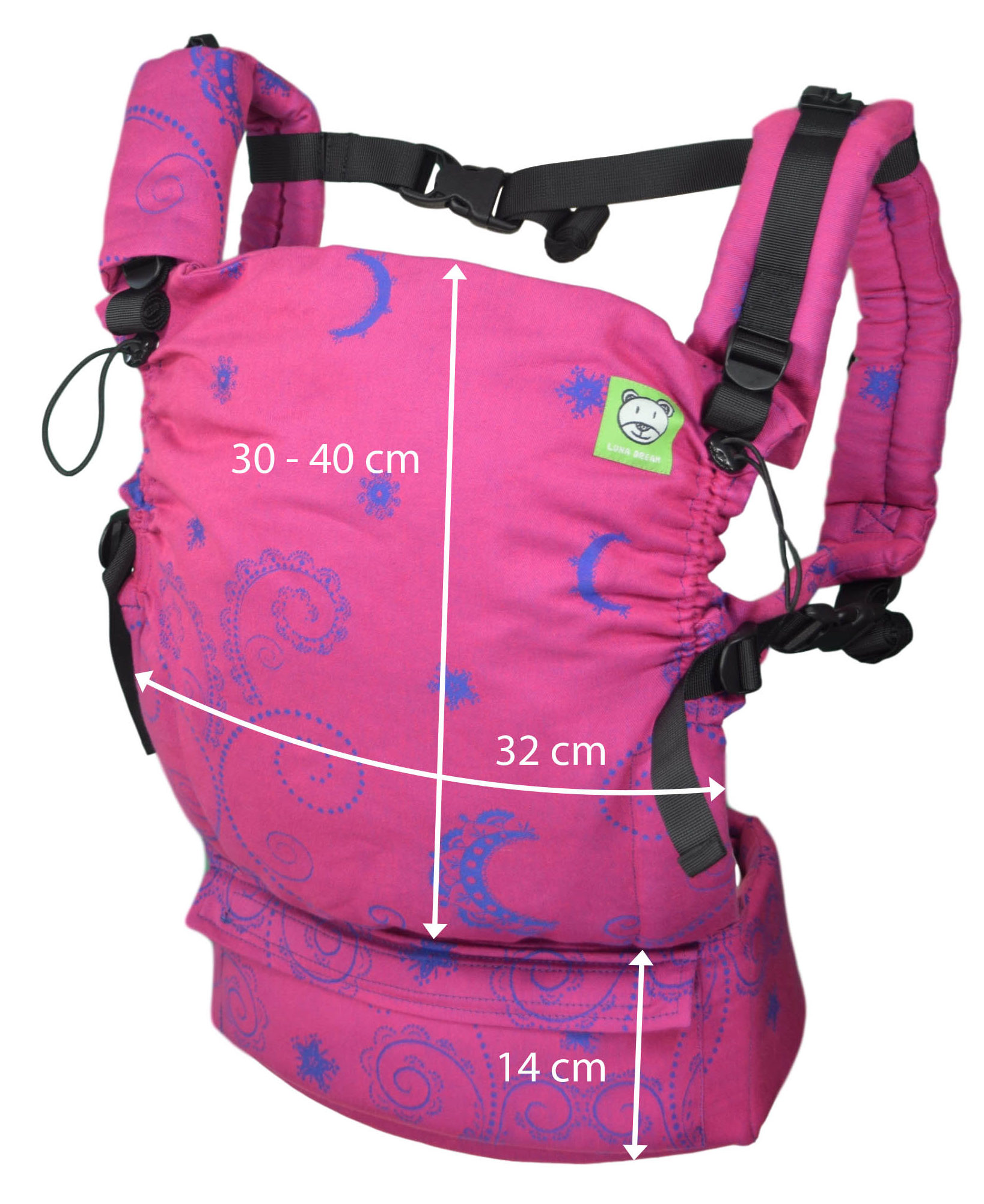 Carrier dimensions:

Panel width: 32 cm
Panel length (height): 30 - 40 cm
Waistband length: 65 - 150 cm
Waistband width (height): 14 cm


Permissible measurement error +- 2cm

The whole manufacturing process takes place in Poland, from the very beginning to the end.

Each carrier comes with an instruction guide. We have also a short video for you, presenting the correct way of wearing the carrier both in front and back positions.